Government College of Technology GCT Rawalpindi Admission 2023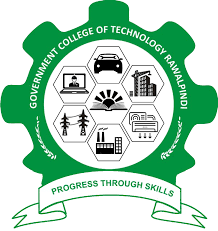 Are you looking to shape your future with a technical education that equips you with practical skills and opens doors to promising career opportunities? Look no further than Government College of Technology, located on Farooq Azam Road in Rawalpindi. With admissions for the year 2023 now open, this esteemed institution is ready to welcome aspiring students like you to embark on a journey of knowledge, skills, and a bright future.
Diverse Courses to Match Your Ambitions at GCT
Government College of Technology offers a range of courses that cater to various interests and educational backgrounds. Whether youre a matriculate, intermediate, or someone seeking specialized skills, theres a program designed just for you:

Web Designing Intermediate:
Take the first step in the digital world with Web Designing. Create stunning websites and explore the vast opportunities in the virtual realm.
Virtual Assistant for Amazon:
Join the gig economy as a Virtual Assistant, a vital role in the online marketplace, ideal for matriculation students.
Food & Beverage Server:
Learn the art of hospitality and service with a focus on the Food & Beverage industry.
Solar Photovoltaic PV System for Power Generation:
Embrace green energy and gain expertise in solar power generation to meet the growing demand for sustainable energy solutions.
Culinary Art:
Discover the culinary world and hone your skills in the art of cooking.
Aluminum and Steel Fabricator:
Master the techniques of working with aluminum and steel, essential in various industries.
Modal Translation:
Gain proficiency in translation, a skill that opens doors in international business and diplomacy.
Admissions on a First-Come, First-Serve Basis:
Seats for these courses are limited, and admissions are granted on a first-come, first-serve basis. Therefore, early application is advised to secure your place in the program that aligns with your goals and aspirations.
Last Date to Apply: October 9, 2023

Prepare for a Bright Future:
Government College of Technology, Rawalpindi, is dedicated to providing a platform for students to enhance their skills, knowledge, and career prospects. With experienced teachers guiding you every step of the way, youll be well-prepared for the challenges of the modern job market.
The colleges commitment to nurturing students potential is reflected in the diverse course offerings, ensuring that you can choose a path that suits your interests and career ambitions. Moreover, the emphasis on appropriate manners and modern communication skills equips graduates with the professionalism needed to succeed in any workplace.
Dont miss the opportunity to secure your spot at Government College of Technology, Rawalpindi. The colleges mission is to empower students with the tools they need to thrive in their chosen fields. For a brighter future, visit the college with your certified copy of your educational documents before the application deadline on October 9, 2023.

Come and be part of a community that values education, skills, and career growth. Government College of Technology, Rawalpindi, is your gateway to a promising future.

Government College of Technology GCT Rawalpindi Admission 2023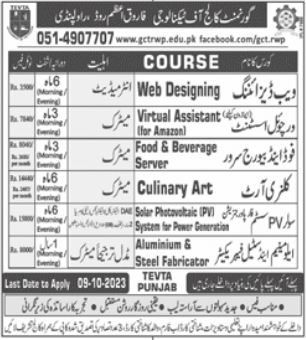 Add a Comment
Comments will be shown after admin approval.
Spam comments will not be approved at all.