Lords College of Pharmacy Pharm-D Admission Open 2024

Lords College of Pharmacy Lahore Welcomes Aspiring Pharmacists: PHARM-D Admissions 2024
. As the academic landscape evolves,
Lords College of Pharmacy
in Lahore stands at the forefront of pharmaceutical education, inviting passionate individuals to embark on a journey of excellence with the commencement of PHARM-D Admissions for the academic year 2024-25.
Affiliated with the University of Punjab, Lords College of Pharmacy maintains a strong academic foundation, ensuring that students receive education of the highest standard. The affiliation with a reputable university speaks to the institutions commitment to providing a curriculum that is not only rigorous but also aligned with industry standards, preparing graduates for success in the dynamic field of pharmacy.
Prospective students keen on pursuing a career in pharmacy have the opportunity to enroll in the PHARM-D program, a comprehensive course that equips individuals with the knowledge and skills necessary for a successful career in pharmaceutical sciences.
The Lord College of Pharmacy PHARM-D Admission 2024-25
at
Lords College of Pharmacy
is a gateway for aspiring pharmacists to receive quality education and practical training.
Situated in Lahore, Lords College of Pharmacy is strategically positioned to provide students with exposure to a vibrant city and a dynamic healthcare landscape. The institutions commitment to academic excellence and practical learning experiences ensures that graduates are well-prepared for the challenges and opportunities in the field of pharmacy.
Individuals aspiring to make a mark in the pharmaceutical industry are encouraged to explore the opportunities presented by Lords College of Pharmacy. The PHARM-D program not only covers the core aspects of pharmaceutical sciences but also incorporates practical training and research components, ensuring that graduates are well-rounded and ready to contribute to advancements in the field.
In conclusion, Lords College of Pharmacys PHARM-D Admissions 2024 represent an opportunity for aspiring pharmacists to receive education and training that aligns with industry standards. With affiliation to the
University of Punjab
and a commitment to excellence, Lords College of Pharmacy is poised to shape the future of pharmaceutical education in Lahore and beyond. Apply now and embark on a journey towards a rewarding career in pharmacy.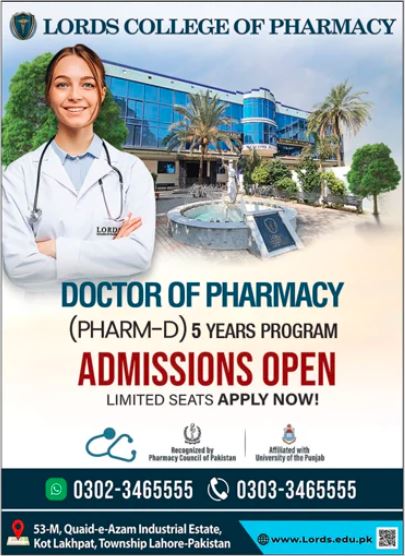 Lords College of Pharmacy
Add a Comment
Comments will be shown after admin approval.
Spam comments will not be approved at all.