Khushal Khan University BS MS MPhil PhD Admission Date Extended 2023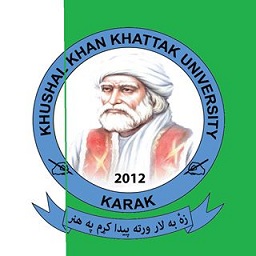 Are you aspiring to pursue higher education at a reputable institution in Pakistan? If so, youll be pleased to hear that
Khushal Khan Khattak University Karak KKKUK
has extended its
admission
deadline for the year 2023. This extension applies to all programs offered by the university, including AD, BS, MS/M.Phil, and PhD programs.
Why KKKUK?

Before we delve into the admission details, lets take a moment to highlight why Khushal Khan Khattak University Karak stands out among the educational institutions in Pakistan.


KKKUK is renowned for its commitment to excellence in education and research. Named after the illustrious Pashto poet and warrior Khushal Khan Khattak University AD BS MS Mphil PhD Admission Date Extended 2023, the university has upheld a tradition of fostering talent and nurturing scholars who contribute to the socio-economic development of Pakistan.


With a diverse range of academic programs, state-of-the-art facilities, and a dedicated faculty, KKKUK ensures that students receive a holistic education that prepares them for the challenges of the modern world. Whether youre interested in arts and design, business and management, natural sciences, social sciences, or humanities, KKKUK has a program tailored to your interests and career goals.


Admission Deadline Extended

Now, lets turn our attention to the most pressing news—KKKUKs extension of the admission deadline for the year 2023. The university has made a thoughtful decision to give aspiring students more time to submit their applications and secure a place in their desired programs.


The original deadline for admissions was fast approaching, but
KKKUK Admission 2023
listened to the needs of prospective students and extended the deadline. You now have until
10th October 2023
to apply for admission to KKKUK for the academic year 2023.
This extension is a great opportunity for those who may have missed the initial deadline or are still making their final decisions. It also reflects KKKUKs commitment to ensuring that all deserving students have a fair chance to join the KKKUK community and benefit from its world-class education.


Programs at KKKUK

KKKUK offers a wide range of programs to cater to the diverse interests and career aspirations of students. Whether youre looking to kickstart your undergraduate studies, pursue advanced research in a masters or M.Phil program, or dive deep into a doctoral program, KKKUK has you covered.


Here are some of the program categories available at KKKUK:
AD Programs: Designed for students seeking a solid foundation in various disciplines, AD programs provide a comprehensive educational experience that equips graduates with the skills needed to excel in their chosen fields.

BS Programs: KKKUK offers bachelors degree programs across various disciplines, allowing students to specialize in areas that align with their interests and career goals.

MS/M.Phil Programs: For those looking to delve deeper into their chosen fields and engage in advanced research, KKKUK offers masters and M.Phil programs that are renowned for their academic rigor and research opportunities.

PhD Programs: Aspiring researchers and scholars can pursue a Ph.D. at KKKUK, benefiting from the guidance of experienced faculty members and access to cutting-edge research facilities.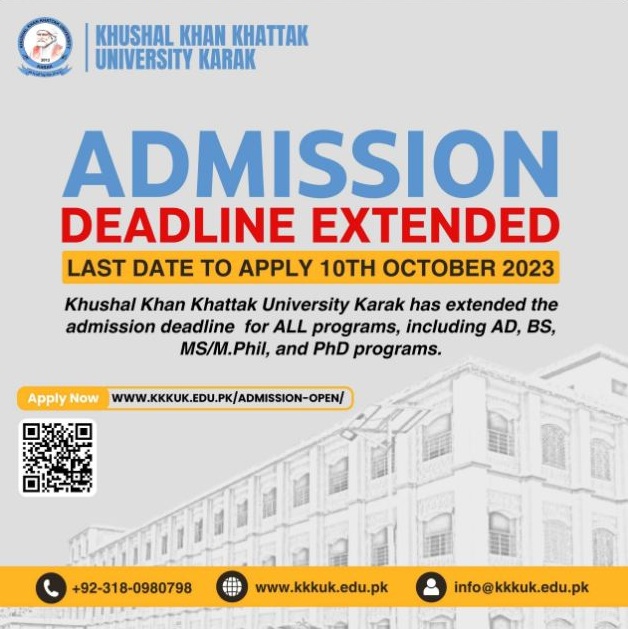 Apply Today!


Dont miss this extended opportunity to become a part of the KKKUK family. Whether youre a recent school graduate or a working professional looking to enhance your qualifications, KKKUK offers a nurturing environment where you can achieve your academic and career aspirations.


To apply for admission to KKKUK for the year 2023, make sure to complete your application before the final deadline on 10th October 2023. Secure your place at one of Pakistans most prestigious educational institutions and embark on a journey of academic excellence and personal growth.
KHUSHAL KHAN KHATTAK UNIVERSITY Courses Admissions 2023
KHUSHAL KHAN KHATTAK UNIVERSITY
Add a Comment
Comments will be shown after admin approval.
Spam comments will not be approved at all.