GCWUS First Merit List for Reserved Seats 2023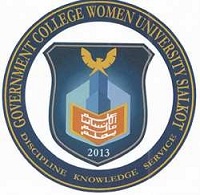 Are you aspiring to embark on a journey of higher education at one of Pakistans premier institutions? Look no further than
GC Women University Sialkot
GCWUS
, where opportunities for academic excellence await you. The year 2023 brings exciting prospects for students seeking admissions, and heres everything you need to know about
GCWUS Admissions 2023
.
The GC Womens University Sialkot is renowned for its commitment to empowering women through education, fostering intellectual growth, and nurturing leadership qualities. As the
admissions
for Fall 2023 are now open, its time for you to seize the opportunity and become part of this esteemed institution.
GCWUS First Merit List for Reserved Seats 2023
Merit is the cornerstone of GCWUS, and the institution takes pride in its transparent and merit-based admission process. The
Merit List
will be your guide to securing a place at GCWUS. Make sure to keep a close eye on it to track your applications status and determine your eligibility for admission.
GC Women University Sialkot values diversity and inclusivity. To ensure fairness and equal representation, the GCWUS First Merit List for Reserved Seats 2023 will be published, offering deserving candidates from various backgrounds a chance to excel.
The Fall 2023 admissions are a stepping stone towards a brighter future.
GCWUS Merit List 2023
offers a wide range of undergraduate and postgraduate programs across various disciplines. Whether youre interested in sciences, humanities, or social sciences, theres a program tailored to your aspirations.
Time is of the essence! Be sure to submit your fees before the deadline on September 28, 2023, to secure your place at GCWUS. Missing this date may result in forfeiting your admission, so make a note of it and act promptly.
Important Note - Comply for Success
To ensure a smooth admission process, take note of these important guidelines:
Admission will be cancelled in case of any fake or non-supporting document. Honesty is the best policy, and the university upholds the highest standards of integrity.

Obtain your Fee Challan Form from the Respective Department. Make sure you follow the prescribed procedure to obtain your Challan Form to avoid any delays.

Bring a Copy of Your Processing Fee Challan Form PAID. This document serves as proof of your payment and is essential for completing your admission process.

For the Challan Form, bring ORIGINAL DOCUMENTS with you. Ensure you have the following original documents: i. Matric Result Card Original ii. Intermediate Result Card Original iii. CNIC/Form B Original
GC Women University Sialkot is not just an institution; its a place where dreams are nurtured and futures are shaped. The admissions for Fall 2023 are your ticket to excellence, and the process is designed to be fair, transparent, and inclusive. Prepare your documents, mark the important dates, and embark on your academic journey towards a brighter tomorrow at GCWUS. Your future begins here!
GCWUS First Merit List for Reserved Seats 2023
GOVERNMENT COLLEGE WOMEN UNIVERSITY
Add a Comment
Comments will be shown after admin approval.
Spam comments will not be approved at all.