Allied Institute of Nursing and Health Sciences Karachi Admission 2023
Are you passionate about pursuing a career in the healthcare sector? Do you dream of becoming a nurse and making a difference in peoples lives? Look no further! The Institute of Nursing at Allied and Health Sciences is thrilled to announce that admissions are now open for various nursing programs that can kick start your journey in the world of healthcare. If you aspire to be a part of this noble profession, mark your calendars for October 20, 2024, and get ready to explore the opportunities that await you.
Programs Offered by AINHS
Generic BSN 4-Year Program:
Are you a high school graduate with a passion for nursing? The Generic BSN program is designed for individuals like you. Its a comprehensive four-year program that will equip you with the knowledge and skills needed to excel in the field of nursing.
Post RN BSN 2-Year Program:
If you are a registered nurse RN looking to advance your career, the Post RN BSN program is the perfect opportunity. In just two years, you can earn your bachelors degree in nursing, opening up a world of possibilities for your professional growth.
Post Basic ICU Nursing:
Critical care nursing is a specialized field that requires specific skills and expertise. Our Post Basic ICU Nursing program is designed to prepare nurses to excel in the challenging and rewarding environment of the intensive care unit.
Post Basic Pediatrics Nursing:
Caring for children requires a unique set of skills and a compassionate heart. The Post Basic Pediatrics Nursing program will train you to provide specialized care to pediatric patients, making a difference in their lives and well-being.
Post Basic ER-DM Nursing:
The emergency room is a fast-paced and demanding environment. Our Post Basic ER-DM Nursing program will provide you with the necessary knowledge and skills to excel in emergency nursing, saving lives during critical moments.
Address: A61, Near Technical Service Station, SITE TOWN, Karachi.
The Institute of Nursing at Allied and Health Sciences is committed to providing high-quality education and training to aspiring nurses. Our experienced faculty, state-of-the-art facilities, and hands-on clinical experiences ensure that our graduates are well-prepared to meet the challenges of the healthcare industry.
Nursing is a profession that allows you to touch lives, provide comfort, and make a positive impact on the health and well-being of individuals and communities. If you are ready to take the first step towards a rewarding career in nursing, dont miss the opportunity to apply to our programs. We look forward to welcoming you and helping you embark on this incredible journey in healthcare.
Join us on October 20, 2024, from 9:00 AM to 5:00 PM at our institutes location in Karachi. Discover your potential, fulfill your dreams, and become a healthcare hero with the Institute of Nursing at Allied and Health Sciences. Your future in nursing begins here!

Allied Institute of Nursing and Health Sciences Karachi Admission 2023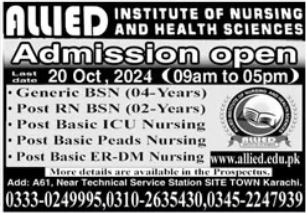 Add a Comment
Comments will be shown after admin approval.
Spam comments will not be approved at all.