Virtual University of Pakistan VU Admission 2023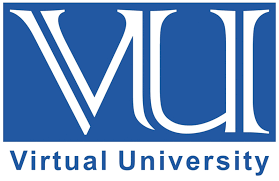 In the ever-evolving landscape of the digital age, staying competitive and relevant requires continuous learning and adaptation. Virtual Universitys DigiSkills.pk program is paving the way for individuals to harness their potential and shape their tomorrows. With a commitment to empowering its students, the program offers market-competitive courses that cater to a wide range of skills and interests.

Muhammad Talha Javeds journey is a testament to the trans-formative power of DigiSkills.pk. Talhas story begins with his decision to join the program and venture into freelancing on platforms like Fiverr. Through dedication and hard work, he quickly rose to the status of a Level Two seller, a milestone that signifies competence and excellence. His success can be attributed to the skills he acquired through DigiSkills.pk, which equipped him with the knowledge and tools needed to thrive in the competitive world of online freelancing.
Talhas testimonial reflects the impact that DigiSkills.pk had on his life: DigiSkills.pk helped me a lot by giving me the skills I needed. Im really thankful for this great start. His journey is a testament to the programs ability to unlock potential and provide individuals with the tools necessary to succeed in the digital marketplace.
Enrollments for Batch-06 DSTP 2.0 Program
Virtual University is committed to creating opportunities for aspiring freelancers and professionals to enhance their skills and transform their futures. The commencement of enrollments for Batch-06 DSTP 2.0 Program on October 2nd, 2023, marks another exciting chapter in this journey. With 250,000 seats available on a first-come, first-served basis, DigiSkills.pk is opening its doors to a wide range of individuals eager to explore new horizons.
Market Competitive Courses
DigiSkills.pk offers a diverse range of market-competitive courses designed to cater to the ever-evolving demands of the digital world. These courses are curated to provide participants with practical knowledge and skills that are highly sought after in the job market. Some of the key courses offered include:
Affiliate Marketing: Learn how to effectively promote products or services and earn commissions by becoming an affiliate marketer.
AutoCAD: Develop proficiency in computer-aided design, a critical skill for architects, engineers, and designers.
Communication & Soft Skills: Enhance your ability to communicate effectively and navigate the nuances of professional communication.
Digital Literacy: Master the essential digital skills required to succeed in the modern workforce.
These courses are not only relevant but also adaptable to various career paths, making them a valuable asset for anyone looking to gain a competitive edge in their chosen field.
Ignite and the National Technology Fund
DigiSkills.pk operates under the umbrella of Ignite, the National Technology Fund. This affiliation further solidifies the programs commitment to promoting digital literacy and skill development in Pakistan. Ignites vision of a digitally empowered Pakistan aligns perfectly with DigiSkills.pks mission to equip individuals with the tools they need to thrive in the digital age.
Virtual Universitys DigiSkills.pk program is a beacon of hope and opportunity for those who aspire to shape their futures in the digital world. Muhammad Talha Javeds success story serves as an inspiration for countless others who are ready to embark on their own journeys of growth and self-improvement.

As enrollments for Batch-06 DSTP 2.0 Program open on October 2nd, 2023, the programs commitment to providing market-competitive courses and fostering digital literacy remains unwavering. Its an invitation to join the ranks of those who have already started their success stories with DigiSkills.pk and to seize the opportunities that the digital age has to offer. Your ability today truly shapes your tomorrow, and DigiSkills.pk is here to help you unlock your full potential.

Virtual University of Pakistan VU Admission 2023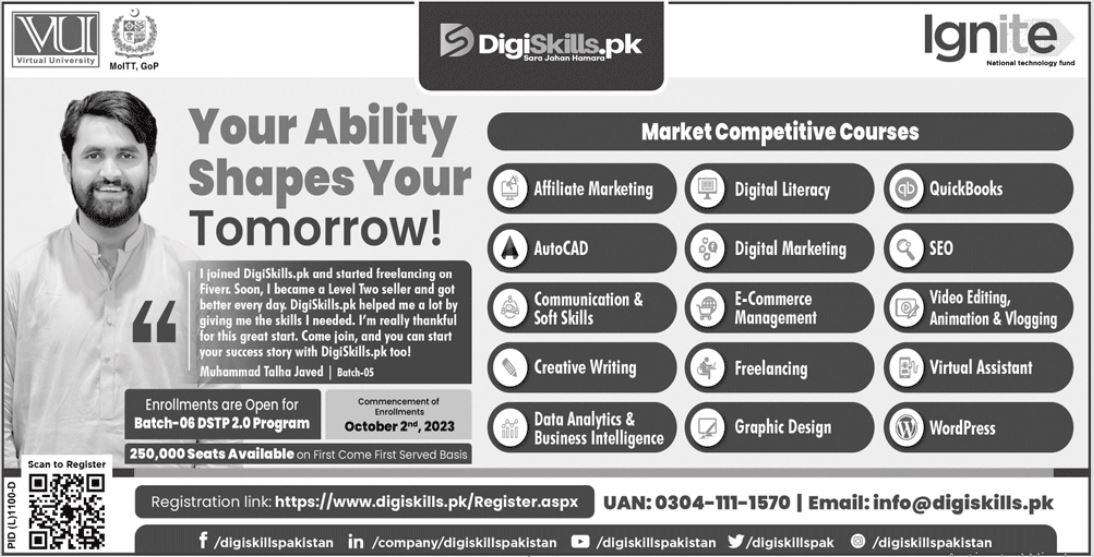 Add a Comment
Comments will be shown after admin approval.
Spam comments will not be approved at all.