University of Balochistan BS DPT PharmD Entry Test Roll No Slip 2023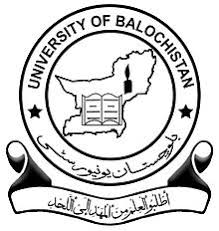 The
University of Balochistan UoB
, a prestigious institution in the heart of Balochistan, Pakistan, is all set to welcome a new cohort of students for the Fall 2023 semester. As the university continues to uphold its commitment to providing quality education, it has released important information regarding the upcoming
admission
process and
roll number slips
for entry tests. Here, we highlight the key details that prospective students need to know.
Admissions and Entry Tests


UoB offers a diverse range of programs, including BS in English Literature, Pharm-D, D.P.T. Doctor of Physical Therapy, BBA-M Bachelor of Business Administration-Marketing, and B.Ed Hons. 4 Years. To secure a seat in these programs, students are required to appear for entry tests.


Roll Number Slips


Roll number slips 2023 for admission to BS-English-Literature M, Pharm-D M, D.P.T.M, BBA-M Fall-2023 have been uploaded. These roll number slips are essential for students to gain entry into the examination centers on the respective UoB BS BEd Hons DPT PhamD Admissions Entry Test Dates 2023.


Here are the details of the entry tests:
BS-English-Literature M - Test Date & Time: 30-09-2023, 10:00 AM
Pharm-D M - Test Date & Time: 01-10-2023, 9:30 AM
D.P.T Doctor of Physical Therapy M - Test Date & Time: 01-10-2023, 1:00 PM
BBA-M Bachelor of Business Administration-Marketing - Test Date & Time: 03-10-2023, 10:00 AM
B.Ed Hons. 4 Years - Test Date & Time: 05-10-2023, 10:00 AM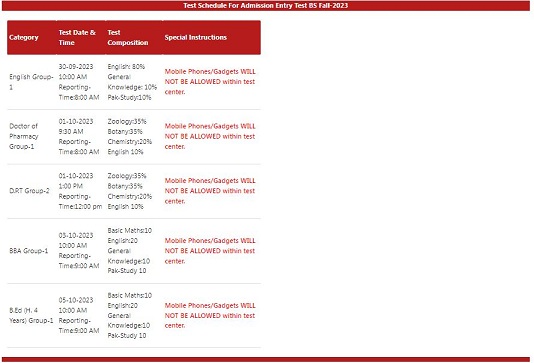 Each UoB Entry Test 2023 has a unique test composition, and its crucial for candidates to be well-prepared for their respective tests. Additionally, special instructions have been issued, including the prohibition of mobile phones and gadgets within the test centers to maintain the integrity of the examination process.
UoB Admissions Entry test Roll Number Slip 2023 takes pride in its commitment to providing a conducive learning environment and ensuring that the admissions process is fair and transparent. Prospective students are encouraged to stay updated with the latest information and make the most of this opportunity to join the ranks of UoBs esteemed alumni.
To Download Admissions Entry Test Roll No Slips: Click Here
The
University of Balochistan Admissions 2023
is ready to welcome the next generation of learners. With the roll number slips now available, aspiring students should focus on their preparations for the upcoming entry tests.
UoB Admission 2023
remains dedicated to nurturing talent and fostering academic excellence in Balochistan and beyond.
UNIVERSITY OF BALOCHISTAN Courses Admissions 2023
UNIVERSITY OF BALOCHISTAN
Add a Comment
Comments will be shown after admin approval.
Spam comments will not be approved at all.