UHS Lahore Scholarships 2023

Scholarships at the University of Health Sciences Lahore
For students aspiring to pursue higher education at the
University of Health Sciences Lahore
, the gateway to a brighter future lies not only in academic excellence but also in the availability of various scholarships. These scholarships aim to empower and support students at different stages of their educational journey.
Merit-Based Scholarships: The University of Health Sciences Lahore UHS recognizes and rewards academic achievement. Merit-based scholarships are designed to celebrate the outstanding performance of students. Whether you have excelled in your matriculation exams or demonstrated exceptional skills, these scholarships serve as a recognition of your dedication to education.
Financial Support for Matric Pass Students: The UHS university places great importance on inclusivity. For matric pass students, a golden opportunity awaits in the form of scholarships. These scholarships, backed by the Pakistan Council of Pharmacy, open doors for aspiring students who have successfully completed their matriculation. Its a testament to the universitys commitment to providing quality education to students from diverse backgrounds.
Pharmacy Technician Course Offerings: Aspiring pharmacy technicians can benefit from the exclusive scholarship opportunities offered by Ariston. These scholarships pave the way for individuals interested in pursuing a career in pharmacy. The University of Health Sciences Lahore, in collaboration with Ariston, aims to facilitate students in acquiring the technical skills and knowledge needed in the pharmaceutical field.
Global Employment Opportunities in Medical Stores: Beyond the borders, the University of Health Sciences Lahore envisions its students contributing globally. Scholarships are available for students aspiring to work in medical stores outside Pakistan. This unique opportunity not only broadens horizons but also aligns with the universitys mission to prepare students for international opportunities.
Application Period Open for 2023: For those ready to seize these opportunities, the scholarship application period is now open for the year 2023. Aspiring students can apply and unlock a world of possibilities at the University of Health Sciences Lahore.
In conclusion, the University of Health Sciences Lahore stands as a beacon of education, providing not just academic excellence but also pathways to success through scholarships. Whether you dream of excelling in pharmacy, pursuing a global career, or seeking financial support, these scholarships are designed to make your educational journey at the university enriching and accessible. Apply now and embark on a journey toward academic and professional success!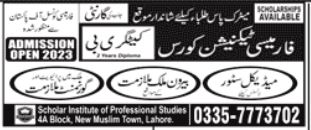 University of Health Sciences Lahore
Add a Comment
Comments will be shown after admin approval.
Spam comments will not be approved at all.