Hazara University BA BSc MA MSc Date Sheet 2023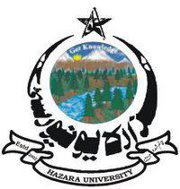 Hazara University HU stands as a beacon of academic excellence in Pakistan, providing students with a platform to pursue knowledge and achieve their educational aspirations. As the university gears up for the upcoming academic year, one of the key highlights is the eagerly anticipated release of the HU BA BSc Date Sheet 2023.
The Date Sheet is a crucial document that serves as a roadmap for students, outlining the schedule of examinations and helping them plan their study routines effectively. It is a tangible representation of the commitment HU has towards maintaining transparency and facilitating a conducive learning environment.


HU Date Sheet 2023: A Glimpse into Future Plans
The recently announced DATESHEET BA/BSC SUPPLEMENTARY and MA/MSC ANNUAL for the academic year 2022-23 is generating buzz among students. This comprehensive schedule not only outlines the examination dates but also reflects the universitys dedication to providing a structured and well-organized academic experience.
The HU BA/BSC Supplementary Date Sheet 2023 is particularly significant for students who are availing themselves of a second chance to excel in their studies. This supplementary examination offers an opportunity for academic redemption, emphasizing HUs commitment to supporting students in their educational journey.


Navigating the Academic Landscape
As students prepare for their examinations, Hazara University remains a steadfast companion in their academic journey. The universitys commitment to academic integrity and the pursuit of knowledge is evident in the meticulous planning of the Date Sheet. It serves as a testament to HUs vision of producing well-rounded individuals equipped with the skills and knowledge needed to navigate the challenges of the future.
In conclusion, Hazara Universitys release of the Date Sheet for the academic year 2023 is a pivotal moment for students and the institution alike. It signifies a commitment to academic excellence, transparent communication, and providing students with the tools they need to succeed. As the HU community eagerly awaits the commencement of examinations, the university stands tall as a symbol of educational empowerment and a guide towards a brighter future.
Hazara University BA BSc MA MSc Date Sheet 2023
Hazara University BA BSc MA MSc Date Sheet 2023
Hazara University
Add a Comment
Comments will be shown after admin approval.
Spam comments will not be approved at all.