DUHS Dow University of Health Sciences IBHM Karachi BBA MBA EMBA Admission 2023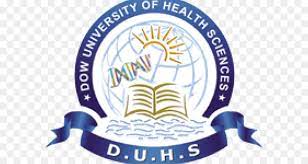 Dow University of Health Sciences DUHS
is a renowned institution known for its commitment to excellence in the field of healthcare education. This year, DUHS is inviting aspiring students to be part of its Institute of Business & Health Management IBHM for the Fall 2023 admissions. Whether youre looking to pursue a Bachelors or Masters degree in business administration with a focus on healthcare, pharmaceuticals, human resources, finance, or marketing, DUHS has a program tailored to your needs.
Programs Offered AT DUHS
BBA 4-Year: A comprehensive four-year Bachelor of Business Administration program for those looking to build a strong foundation in business management.
BBA 2-Year Morning/Evening: A flexible two-year program for those who want to fast-track their education or balance work and studies.
MBA Morning/Evening: Master of Business Administration programs designed to equip students with advanced business skills for a variety of career paths.
EMBA on Weekend: An Executive Master of Business Administration program that caters to working professionals, allowing them to enhance their career prospects without interrupting their work schedules.
MBA & EMBA Specializations: Specializations available in Healthcare Management, Pharmaceutical Management, Human Resource Management, Finance, and Marketing, allowing students to focus on their area of interest.
BBA 2-Year/MBA Morning/Evening at Ojha Campus: Conveniently located at the Ojha Campus, this program offers the same high-quality education with added convenience.
BBA 4-Year Morning at Ojha Campus: For those who prefer the four-year BBA program, this option is available at the Ojha Campus.
EMBA Weekend at DMC Campus: The EMBA program is also offered at the DMC Campus, catering to the needs of professionals seeking to advance their careers.
The admissions process for IBHM is distributed across two campuses:

DMC Campus: Located at the ION Building, 4th Floor, KDA Scheme 33, Dow Medical College Gulzar-e-Hijri DUHS, Karachi. The campus operates from 09:00 am to 09:00 pm.
Ojha Campus: Situated near M. A. Jinnah Road, Karachi, this campus offers both BBA 2-Year/MBA Morning/Evening and BBA 4-Year Morning programs.
Scholarships:
DUHS recognizes the importance of financial assistance in achieving educational goals. Scholarships are available as per DUHS policy, providing opportunities for deserving students to pursue their dreams.
Last date to apply: October 06, 2023

Date of Entry Test: October 08, 2023
Dow University of Health Sciences Institute of Business & Health Management is inviting students to embark on a journey of academic excellence and career development for the Fall 2023 admissions. With a wide range of programs, specializations, and campus options, DUHS provides flexibility and quality education for aspiring business leaders. Dont miss the opportunity to be a part of this prestigious institution and shape your future in healthcare and business management. Apply now and take the first step towards a promising career.

DUHS Dow University of Health Sciences IBHM Karachi BBA MBA EMBA Admission 2023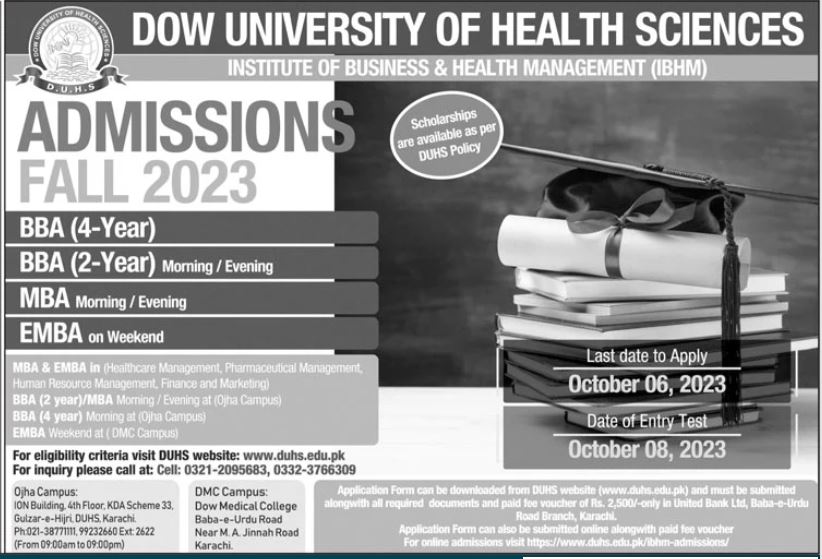 Add a Comment
Comments will be shown after admin approval.
Spam comments will not be approved at all.