Darmasiswa Indonesian One Year Non-Degree Scholarship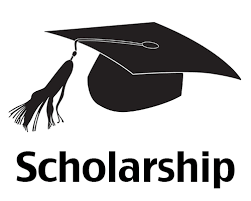 Government of Indonesia
has launched their one year non-degree
scholarships
to the non-Indonesian citizens from the countries, who have diplomatic relations with Indonesia. This scholarship is offered to study Indonesian language, arts, music, crafts and other specific subjects at 68 Indonesian higher education institutes in various cities in Indonesia. The Ministry of Education, Culture, Research and Technology after making the collaboration with Ministry of Foreign Affairs.

The candidates can get the detailed information regarding Darmasiswa Indonesian One Year Non-Degree Scholarship and the main objective of this scholarship program is to enhance and cultivate the interest in Indonesian and Indonesian culture among the people of other countries.


Procedure
The candidates can register themselves and submit relevant documents to Darmasiswa RI official website and the students, who are not in their home country, they will not be allowed to register through Indonesian embassy / consulate general in participating countries.
Program schedule
•
The online registration can be done from 20 February 2023 to 07 April 2023.
•
Interview and administrative check at the Indonesian embassy / consulate from 08 April 2023 to 21 April 2023.
•
Selection by University from 22 April 2023 to 04 May 2023.
•
Announcement on 12 May 2023
•
The confirmation for attendance will be done from 12 May 2023 to 24 May 2023 and final announcement will be made on 31 May 2023.
•
The flight itinerary confirmation will be done from 06 June 2023 to 01 August 2023.
•
Pre-Departure briefing at Indonesian embassy / consulate will be done in July to August 2023
•
The orientation program in Jakarta Indonesia will be done from 29 to 31 August 2023
•
The classes will be started in early September 2023.
Coverage
•
The students will get the monthly living allowance of IDR 2,600,000 two million six hundred thousand Indonesian rupiahs.
•
The living allowance of IDR 2,600,000 per month
•
Book allowance of IDR 2,000,000 one-off settlement allowance
•
The students will avail the accommodation and transportation during Orientation program with the schedule from MoECRT
•
The students will be advised to keep some extra money preferably in USD for their personal unforeseen expenses in Indonesia
Qualifications
2.
Must have completed their secondary education or equivalent
3.
Minimum age of 18 years and not over 27 years of age
4.
Able to communicate in English Proven by Certificate like TOEFUTOEIC / IELTS or other certificates if applicable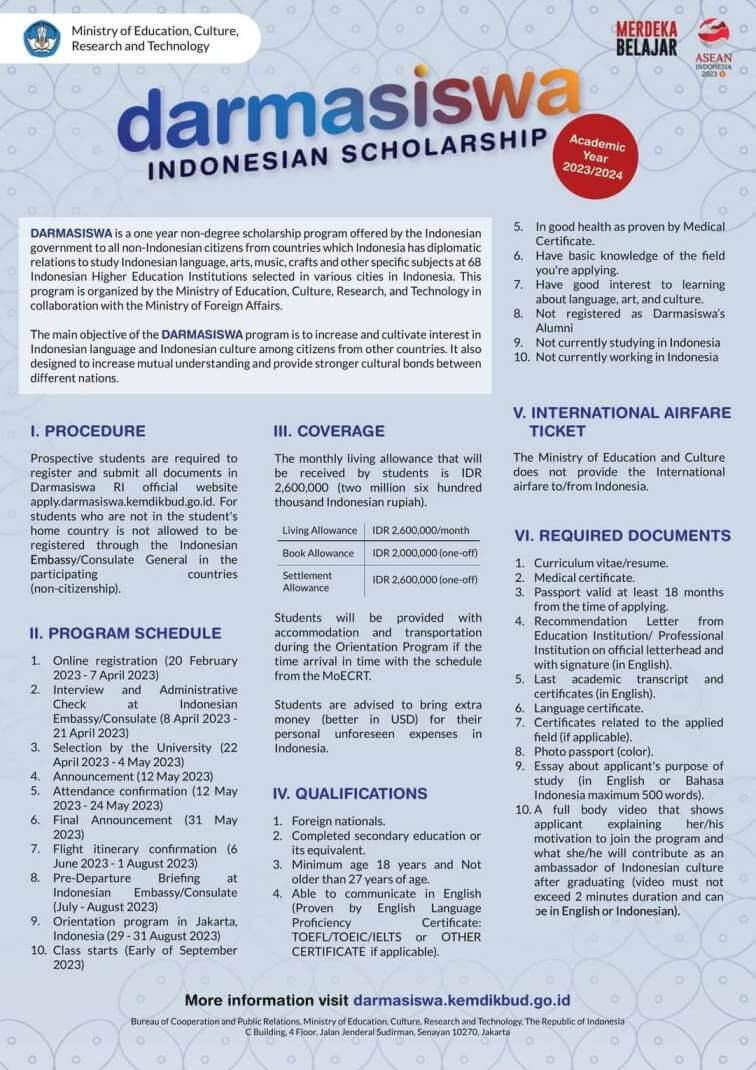 Add a Comment
Comments will be shown after admin approval.
Spam comments will not be approved at all.