UOL University of Lahore BS MS M.Phil Ph.D Admission 2023

FACULTY OF ENGINEERING & TECHNOLOGY:
Computer Engineering BS, MS
Electrical Engineering BS, MS, PhD
Mechanical Engineering BS, MS, PhD
Civil Engineering BS, MS, PhD
Technology Programs Information Engineering, Mechanical Engineering, Civil Engineering, Architectural Engineering, Agricultural Engineering, Electrical Engineering, Biomedical Engineering - BS, MS
FACULTY OF INFORMATION TECHNOLOGY:
Software Engineering BS, MS, PhD
FACULTY OF PHARMACY:
Various MPhil and PhD programs in Pharmaceutical Chemistry, Pharmacology, Pharmaceutics, and more.
FACULTY OF LANGUAGES & LITERATURE:
English Language and Literature BS
FACULTY OF SCIENCES:
Physics BS, Medical Physics
Environmental Sciences BS, MPhil, PhD
Mathematics & Statistics BS, MPhil, PhD
Molecular Biology & Biotechnology BS, MPhil, PhD
FACULTY OF ALLIED HEALTH SCIENCES:
Radiological Sciences & Medical Imaging Technology BS
Physical Therapy Doctor of Physical Therapy, MPhil, MS
Diet & Nutritional Sciences BS
Food Science & Technology BS, MPhil, PhD
Medical Lab Technology BS, MPhil, PhD
Optometry & Vision Sciences Bachelor of Vision Sciences
Various Health Professional Technologies Surgical Technology, Emergency Technology, Intensive Care Technology, Critical Care Technology, Respiratory Therapy, Operation Theater Technology
Rehabilitation Sciences BS, Speech & Language Pathology, Audiology, Occupational Therapy
Sports Sciences BS, MPhil
Emerging Allied Health Technologies Neurophysiology, Cardiac Technology, Cardiac Perfusion Technology, Dialysis Technology
FACULTY OF ARTS & ARCHITECTURE:
School of Architecture Bachelors of Architecture, Bachelors of Interior Design
School of Creative Arts Media and Mass Communication, Film and Television, Animation and VFX, Visual Arts, Visual Communication Design, MPhil, PhD
FACULTY OF MANAGEMENT SCIENCES:
Lahore Business School BBA, BS Human Resource Analytics, BS Financial Technology, BS Digital Marketing, BS Supply Chain Analytics, MBA, MS, PhD
Economics BS, BS Economics & Finance, MPhil, PhD
Lahore School of Aviation BS Aviation Management, BS Aircraft Maintenance Technology
School of Accountancy & Finance B.Com, BS Accounting & Finance, BS Taxation, BS Islamic Banking & Finance, BS Finance & Technology, MS, MPhil, PhD
FACULTY OF SOCIAL SCIENCES:
Islamic Studies BS, Quranic Sciences, MPhil
Lahore School of Behavioural Sciences Psychology, Clinical Psychology, MPhil
Education B.Ed, MPhil, PhD
School of Integrated Social Sciences Social Science, Criminology
The UOL also mentions that it offers up to 100% merit-based scholarships and has multiple campuses, including the main campus in Lahore and a campus in Sargodha.
For more details and specific admission requirements, interested individuals should contact the universitys admission office, which is open on Saturdays and Sundays.

UOL University of Lahore BS MS M.Phil Ph.D Admission 2023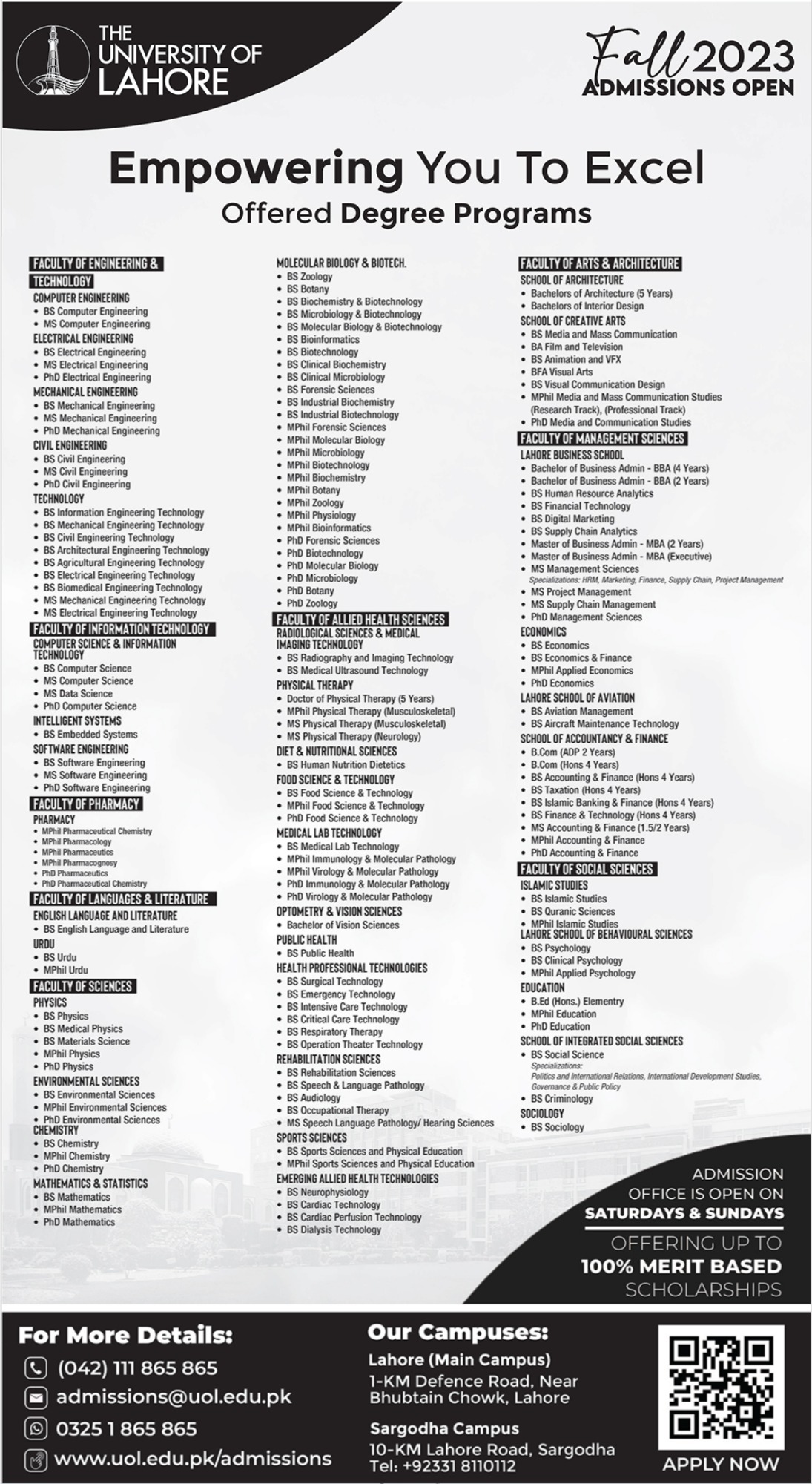 Add a Comment
Comments will be shown after admin approval.
Spam comments will not be approved at all.