UHS Digital Marketing Course Admission 2023

Unlocking Business Success: Training at the University of Health Sciences Lahore
In the pursuit of a successful future, technical training plays a pivotal role. The University of Health Sciences Lahore, known for its commitment to holistic education, introduces specialized courses that provide the essential skills needed for a prosperous future.
Import/Export Management:
Embarking on a business journey requires meticulous planning, especially in the realm of import and export. The course on Import/Export Management at the
University of Health Sciences
Lahore equips aspiring entrepreneurs with the knowledge to navigate the complexities of documentation, shipping, and international standards. From preparing necessary documents to understanding the intricacies of international trade, this course lays the foundation for successful business ventures.
Digital Marketing: In an era dominated by technology, digital marketing is a key driver of business success. The University UHS offers a comprehensive Digital Marketing course covering platforms such as YouTube, Facebook, and Instagram. With a focus on real-world applications, students learn to harness the power of digital platforms to promote products and services effectively.
Taxation Management: Navigating the complexities of taxation is essential for any business. The Taxation Management course provides practical training in tax compliance, GST, NTN, and other crucial aspects. Removing unnecessary fears associated with tax matters, this course ensures that businesses can operate smoothly within legal frameworks.
Admission Open for 2023: For individuals seeking to enhance their skills and knowledge in these critical areas, admissions are now open for the upcoming sessions. The courses are designed to accommodate diverse schedules, with flexible timings in the evening, allowing professionals and students alike to participate.
Pakistan Knitwear Training Institute: Managed by the Pakistan Hosiery Manufacturers & Exporters Association, the Pakistan Knitwear Training Institute, affiliated with the University of Health Sciences Lahore, serves as a hub for skill development in the textile industry. With EDF funding and a commitment to excellence, the institute offers courses that cater to the evolving needs of the industry.
In conclusion, the University of Health Sciences Lahore continues to be a beacon of education, not only in healthcare but also in providing practical skills for diverse careers. The specialized courses offered reflect the institutions dedication to empowering individuals for success in the ever-evolving professional landscape. Enroll now to unlock a world of opportunities and enhance your prospects for a flourishing future.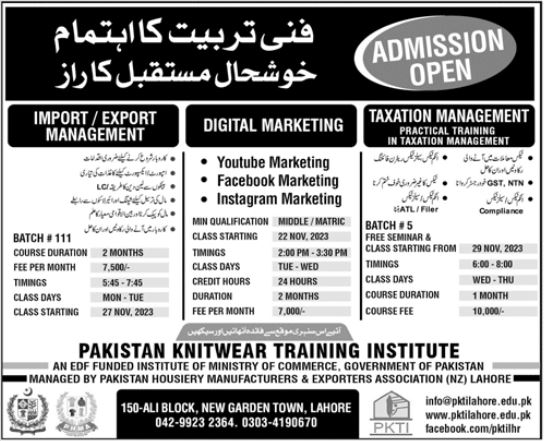 University of Health Sciences Lahore
Add a Comment
Comments will be shown after admin approval.
Spam comments will not be approved at all.