SZABIST BS MS Need Based Scholarship 2023-24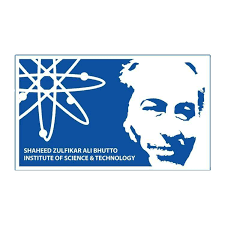 Education is the cornerstone of societal progress, empowering individuals to realize their potential and contribute meaningfully to society. In pursuit of this vision, the
Shaheed Zulfikar Ali Bhutto Institute of Science and Technology
SZABIST
has been a beacon of hope for countless students in Pakistan and beyond. This esteemed institution not only provides world-class education but also ensures that financial constraints do not stand in the way of aspiring scholars. The
SZABIST Need-Based Scholarship
for the academic year 2023-24 is a testament to their commitment to nurturing talent and fostering academic excellence.
SZABIST: A Legacy of Excellence

SZABIST, named after Pakistans visionary leader Shaheed Zulfikar Ali Bhutto, was founded in 1995 with the aim of promoting higher education in Pakistan. Over the years, it has established itself as a premier institution dedicated to producing leaders, innovators, and changemakers in various fields, including science, technology, business, and social sciences. SZABIST Scholarship 2023 has consistently maintained high academic standards, and its alumni have made significant contributions to both the national and international arenas.

Scholarship: A Catalyst for Dreams

Access to quality education is not a privilege; it is a fundamental right. Unfortunately, financial constraints often hinder deserving students from pursuing higher education. Recognizing this challenge, SZABIST has taken proactive steps to bridge this gap through its Need-Based Scholarship program 2023-24. This program embodies the institutions commitment to equity and inclusivity.

SZABIST Need-Based Scholarship 2023-24
Applications for the
SZABIST Need-Based Scholarship for the academic year 2023-24
are now open for new students. This
scholarship
program is designed to provide financial assistance to talented individuals who face financial barriers in accessing higher education. By offering financial support, SZABIST aims to ensure that no deserving student is deprived of the opportunity to pursue their dreams and contribute to society.

Key Highlights of the SZABIST Need-Based Scholarship 2023-24:
Inclusivity: The scholarship is open to all new students who demonstrate financial need, regardless of their program of study. It ensures that everyone has a fair chance to access quality education.

Financial Support: Recipients of the scholarship will receive financial support that covers a significant portion of their tuition fees, alleviating the burden of educational expenses.

Merit-Based Selection: While financial need is a primary criterion, academic merit is also considered during the selection process, ensuring that scholarship recipients are not only in need but also excel academically.

Empowering Communities: By providing scholarships to students from diverse backgrounds and regions, SZABIST fosters diversity and inclusion, creating a vibrant learning environment.

Commitment to Excellence: The scholarship program reflects SZABISTs unwavering commitment to nurturing talent and fostering academic excellence in Pakistan.


How to Apply

Applying for the SZABIST Need-Based Scholarship is a straightforward process:
Visit the SZABIST website: Access the official SZABIST website to find detailed information about the scholarship program and the application process.

Complete the Application Form: Download the application form from the website, fill it out accurately, and provide all necessary documentation.

Submit Your Application: Submit your completed application form and supporting documents to the designated scholarship office within the specified deadline.

Selection Process: Scholarship recipients will be selected through a rigorous process that considers financial need and academic merit.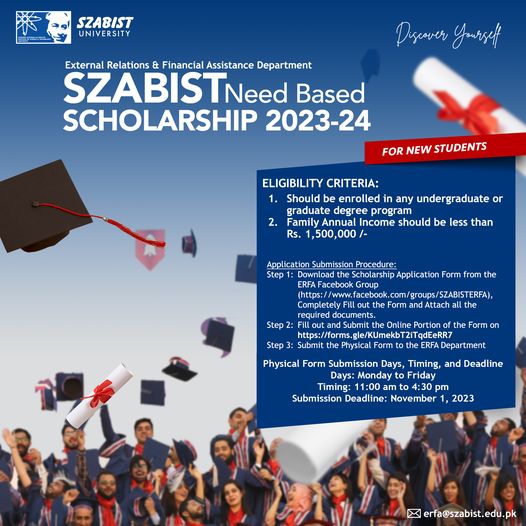 The SZABIST Need-Based Scholarship for the academic year 2023-24 is a shining example of SZABISTs commitment to empowering the dreams of aspiring students. This scholarship not only provides financial relief but also opens doors to a world-class education and opportunities for personal and professional growth. SZABIST continues to be a trailblazer in higher education, ensuring that education remains accessible to all, regardless of their financial circumstances. As we move forward, let us celebrate this noble initiative that transforms lives, one scholarship at a time.
Institute of Science and Technology SZABIST Islamabad
Add a Comment
Comments will be shown after admin approval.
Spam comments will not be approved at all.