Sarhad University BS Admissions Fall 2023

Sarhad University
, nestled in the heart of DEC Mardan, proudly announces admissions for the Fall 2023 semester, inviting passionate minds to explore a spectrum of academic opportunities. The university opens its gates for aspirants seeking to delve into various disciplines, offering programs in
BS Computer Science, Software Engineering, BBA, English, Urdu,
and
Education.
The BS in Computer Science and Software Engineering programs stand as beacons for tech enthusiasts, providing cutting-edge knowledge and practical skills essential in todays digital landscape. Meanwhile, the BBA program offers a comprehensive understanding of business principles, nurturing future entrepreneurs and corporate leaders.
The inclusion of languages such as English and Urdu highlights the universitys commitment to linguistic diversity and cultural appreciation. These programs not only foster linguistic competence but also delve into the broader realms of literature, communication, and cultural studies.
The field of Education embodies the essence of shaping future educators. Sarhad Universitys program goes beyond conventional teaching methodologies, aiming to produce dynamic, innovative educators equipped to transform educational paradigms.
At Sarhad University, education extends beyond textbooks. It embodies a holistic approach, combining theoretical knowledge with hands-on experience and practical application. The institution is renowned for its state-of-the-art facilities, experienced faculty, and a conducive environment for comprehensive learning.
The Fall 2023
admissions
open avenues for individuals eager to carve their paths in diverse fields. Sarhad Universitys commitment to academic excellence, coupled with a nurturing environment, makes it an ideal destination for those aspiring for a well-rounded education. As the world evolves, Sarhad University stands firm, and dedicated to nurturing skilled, adaptable, and visionary professionals poised to make a meaningful impact in their chosen fields.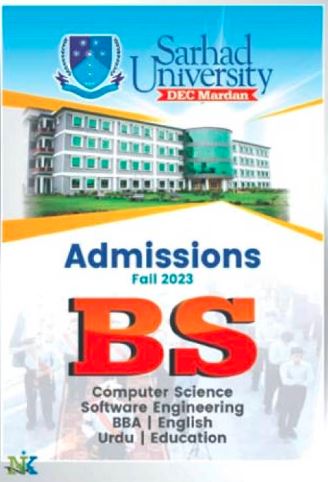 Sarhad University Of Science and Information Technology Peshawar Courses Admissions 2023
Sarhad University Of Science and Information Technology Peshawar
Add a Comment
Comments will be shown after admin approval.
Spam comments will not be approved at all.