RIU Riphah International University BS MS ADP M.Phil Ph.D Admission 2023

Are you aspiring to pursue higher education in a globally recognized institution that offers a wide array of programs to cater to your diverse interests and career goals? Look no further, as Riphah International University in Lahore, Punjab, Pakistan, has opened its doors for admissions in 2023, presenting an opportunity that shouldnt be missed.
Admissions Open in 2023:
Apply Now!
One of the most crucial aspects of your educational journey is choosing the right university, and Riphah International University RIU is making this decision easier than ever. Admissions are now open for the 2023 intake, and the last date to apply is September 30th. Whether you are a recent high school graduate, a working professional seeking further qualifications, or an international student looking for quality education, Riphah has something to offer for everyone.
Merit-Based Scholarships: Investing in Your Future
Education is an investment in your future, and Riphah International University understands the financial challenges that students may face. To support and encourage talented individuals, the university is offering 100% merit-based scholarships. This means that if you have the academic prowess and dedication, you have the chance to secure a scholarship that covers your entire tuition fees. Dont let financial constraints hold you back from pursuing your dreams.
Diverse Programs offered by Riphah International University
.
Riphah International University is proud to be listed among the top 200 universities in the world. This recognition is a testament to the universitys commitment to academic excellence and research. With a wide range of programs spanning various disciplines, Riphah ensures that you can find the perfect fit for your academic and career goals. Here are some of the key programs offered:
Associate Degree Programs:
ADP Medical Laboratory Technology 2 Years
ADP Medical Imaging Technology 2 Years
Rehabilitation & Allied Health Sciences:
Doctor of Physical Therapy DPT, 5 Years
BS Human Nutrition & Dietetics BS-HND, 4 Years
BS Medical Laboratory Technology BS-MLT, 4 Years
BS Speech Language Pathology BS-SLP, 4 Years
BS Optometry & Orthoptics BS-004, 4 Years
Pharmaceutical Sciences:
MPhil Pharmaceutics 2 Years
MPhil Pharmacology 2 Years
Science & Technology:
BSc Electrical Engineering 4 Years
BSc Bio-Medical Engineering 4 Years
BS Computer Systems 4 Years
MS Electrical Engineering 2 Years
Language & Literature:
BS English Applied Linguistics 4 years
BS English Language & Literature 4 Years
MPhil English Literature 2 Years
MPhil English Linguistics 2 Years
Clinical & Professional Psychology:
BS Applied Psychology 4 Years
BS Educational Psychology 4 Years
BS Clinical Psychology 4 Years
MS Clinical Psychology 2 Years
Advanced Diploma in Clinical Psychology ADCP 1.5 Year
Business & Management:
BS Accounting & Finance 4 Years
MS Management Sciences 1.5 Year
Computing & Innovation:
BS Computer Science 4 Years
BS Software Engineering 4 Years
BS Information Technology 4 Years
BS Cyber Security 4 Years
Basics & Applied Sciences:
MPhil Mathematics 2 Years
Veterinary Sciences:
Artificial Insemination Technician Diploma 6 Months
Doctor of Veterinary Medicine 5 Years
Livestock Assistant Diploma 2 Years
A Newly Established Campus in Lahores Heart
Riphah International University has expanded its presence with a newly established campus in the heart of Lahore, specifically in Gulberg. This strategic location ensures that you have access to a vibrant city while pursuing your studies in a world-class institution.
Apply Now and Secure Your Future
Invest in your future, choose Riphah International University, and unlock a world of opportunities in 2023. Dont miss out on the chance to be a part of this prestigious institution and take the first step towards a successful and fulfilling career. Your dreams are within reach, and Riphah is here to help you achieve them. Apply now!

RIU Riphah International University BS MS ADP M.Phil Ph.D Admission 2023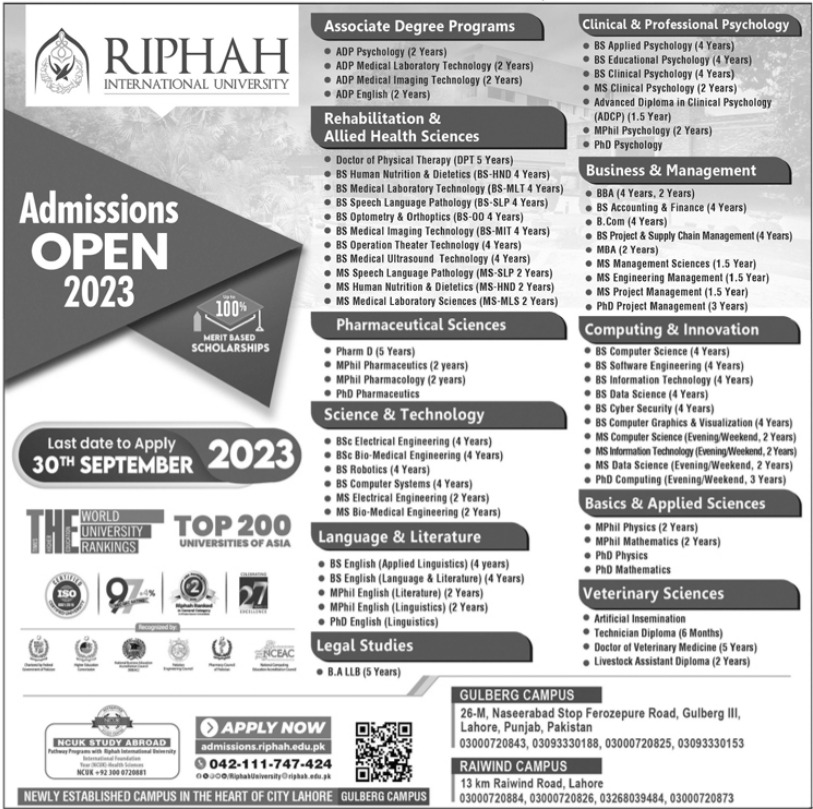 Add a Comment
Comments will be shown after admin approval.
Spam comments will not be approved at all.