NUTECH Lahore BS Admission 2024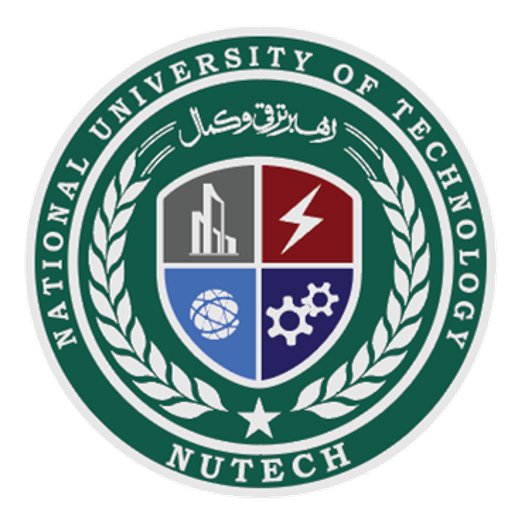 Empowering Futures: National University of Technology Lahore
In the ever-evolving landscape of education, the
National University of Technology NUTECH
, located in Islamabad , stands as a beacon of innovation and excellence. As the institution opens its doors for the Fall 2024 admissions, prospective students have the opportunity to embark on a transformative journey that blends theoretical knowledge with practical skills.
NUTECHs commitment to providing quality education is evident in its Fall 2024 admissions cycle. With online registration available until January 3, 2024, aspiring students are encouraged to seize this chance to be part of a dynamic academic community.
NUTECH Entry Test NUET-I – January 6-7, 2024: To ensure that the most deserving candidates join its academic ranks, NUTECH conducts the NUET-I entry test on January 6-7, 2024. This rigorous evaluation is designed to assess the aptitude and potential of applicants, setting a standard for academic excellence.
BS Degree Programs: NUTECH offers a diverse range of undergraduate programs, each meticulously crafted to meet the demands of contemporary industries. The highlighted programs include:


BS Civil Engineering CE: Bridging the gap between innovation and infrastructure.


BS Mechanical Engineering ME: Pioneering solutions in the realm of mechanics.


BS Electrical Engineering EE: Illuminating the path in the electrical domain.


BS Computer Engineering CEN: Integrating computer technology with engineering principles.


BS Computer Science CS: Nurturing minds for the digital age.


BS Software Engineering SE: Crafting the architects of software solutions.


BS Artificial Intelligence AI: Exploring the limitless potential of AI.


BS Cyber Security CY: Safeguarding the digital realm.


BS Information Technology IT: Shaping the future of IT landscapes.


BET Civil: Elevating the standards in civil engineering.


Minimum Eligibility Criteria: Prospective students from various educational backgrounds, including FSc 2 Year Pre-Eng, Pre-Med, ICS, HSSC with Math, DAE, A-Level, and Equivalent, are eligible to apply. The minimum criteria for admission range from 50% to 60%, ensuring a diverse and talented student body.
In conclusion, NUTECH continues to be a trailblazer in education, providing a platform for students to not only gain theoretical knowledge but also acquire practical skills that align with the needs of the industry. As the world progresses, NUTECH remains steadfast in its commitment to empowering the next generation of leaders and innovators. Seize the opportunity, apply now, and be part of a university that shapes futures.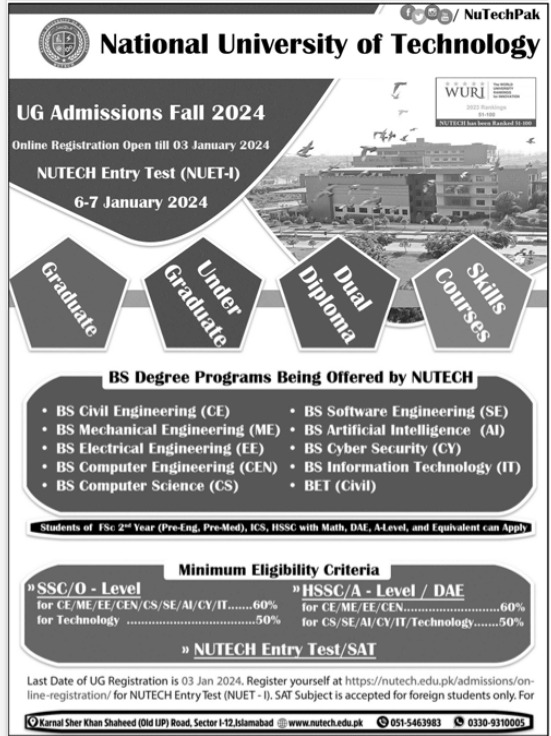 National University of Technology NUTECH
Add a Comment
Comments will be shown after admin approval.
Spam comments will not be approved at all.