Multan University of Science and Technology MUST BS BBA DPT Admission 2023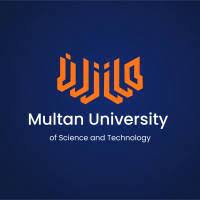 Multan University, a prestigious institution chartered by the Government of Punjab and accredited by various regulatory bodies, is opening its doors for admissions in 2023. With a diverse range of programs across multiple faculties, a purpose-built campus, and a commitment to excellence, Multan University is the ideal destination for students seeking quality education in Pakistan.
Faculty of Computer and Information Technology
BS Computer Science 4 years
BS Software Engineering 4 years
BS Information Technology 4 years
Faculty of Arts & Social Sciences
School of Language & Literature
School of Psychology
School of Arts & Social Sciences
BS Mass Communication 4 years
Faculty of Management Sciences
School of Business Management
BS Accounting & Finance 4 years
Multan College of Veterinary Sciences
Admissions Open 2023
Doctor of Veterinary Medicine DVM - 5 years
Livestock Assistant Diploma LAD - 2 years
Artificial Insemination Technician AIT Diploma - 6 months
Doctor of Pharmacy Pharm-D - 5 years
School of Allied Health Sciences
Doctor of Physical Therapy - 5 years
BS Human Nutrition & Dietetics - 4 years
BS Medical Lab Technology - 4 years
BS Medical Imaging Technology - 4 years
BS Operation Theater Technology - 4 years
School of Nursing
Fall 2023 Scholarships Available
Fully equipped laboratories
Sports ground cricket/football/hockey
Multan University MU is conveniently located just 0.5 km from Nag Shah Chowk, on Main Muzaffargarh Road, Multan.
Choosing Multan University for your higher education means gaining access to top-notch facilities, experienced faculty, and a vibrant learning environment. The institutions commitment to excellence is reflected in its rigorous academic programs, modern infrastructure, and a wide range of extracurricular activities.
Multan Universitys diverse faculties cater to a broad spectrum of academic interests, ensuring that every student can find a program that suits their passion and career aspirations. Whether you aspire to delve into the world of computer science, explore the intricacies of language and literature, or contribute to the field of healthcare, Multan University has you covered.
Additionally, the availability of scholarships for the Fall 2023 intake is a testament to the institutions dedication to making quality education accessible to deserving students.
The purpose-built campus provides an ideal environment for learning, research, and personal growth. With state-of-the-art laboratories, IT facilities, and a well-stocked library, students have the resources they need to excel academically. The auditorium and indoor activity area also offer spaces for cultural events and extracurricular activities.
For sports enthusiasts, the campus boasts a sports ground where cricket, football, and hockey can be enjoyed. And for those interested in equestrian pursuits, the horse riding club is a unique and exciting feature.
Students can also benefit from the convenience of a well-furnished cafeteria, transport services, and on-campus hostel facilities, ensuring a comfortable and enriching university experience.
Furthermore, Multan University encourages students to engage in clubs and societies to nurture their talents and interests outside the classroom.
In conclusion, Multan Universitys admissions for 2023 present an opportunity for aspiring students to embark on a journey of academic and personal growth in a supportive and enriching environment. With its commitment to excellence, top-tier facilities, and diverse program offerings, Multan University is the place where dreams take shape, and success is nurtured. Dont miss the chance to be a part of this esteemed institution – apply today!

Multan University of Science and Technology MUST BS BBA DPT Admission 2023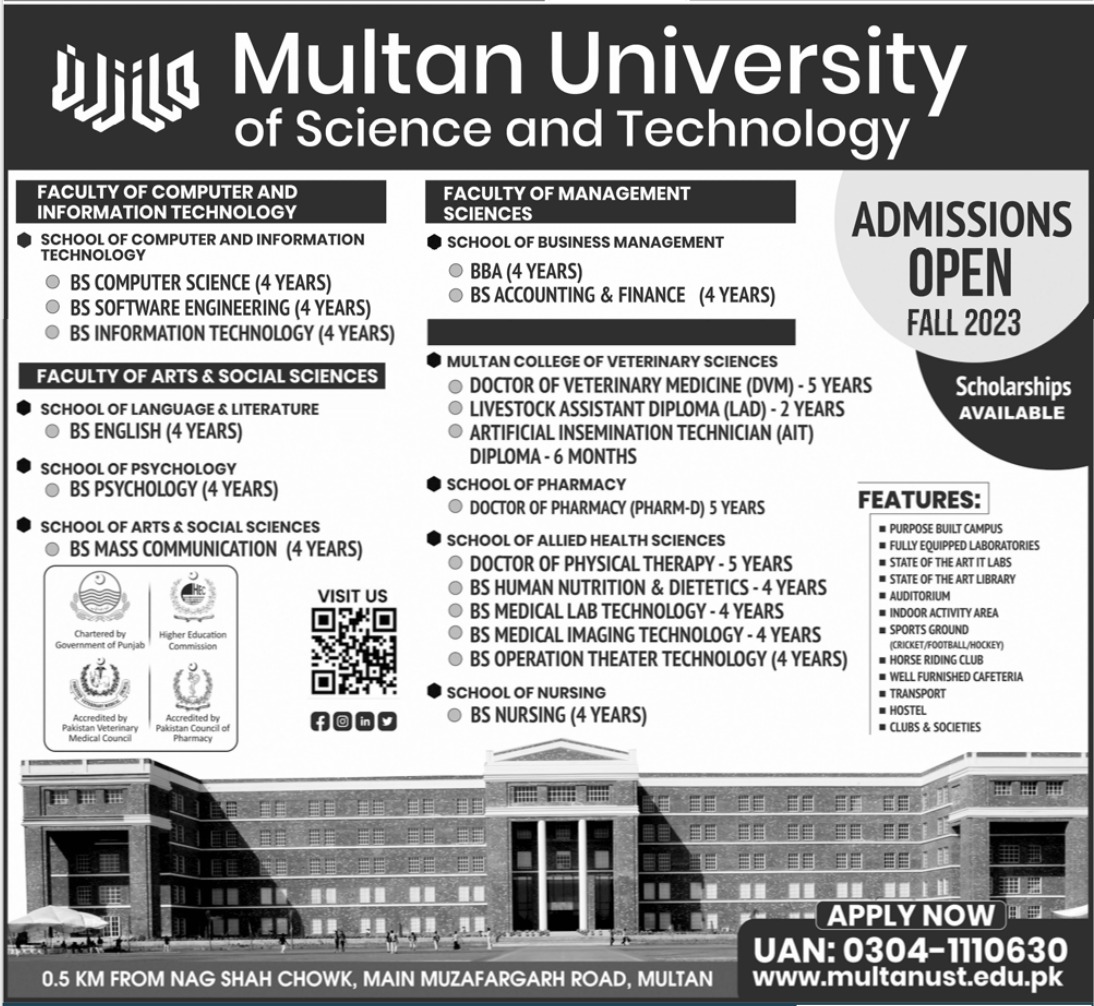 Add a Comment
Comments will be shown after admin approval.
Spam comments will not be approved at all.