Khyber Medical University KMU MDCAT 2023 Test Instruction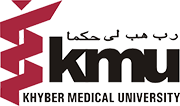 The Khyber Medical University KMU in Peshawar is set to conduct the highly anticipated Medical & Dental College Admission Test MDCAT-23 on Sunday, 26th November, 2023. This examination is a crucial step for aspiring medical and dental students, and the KMU is leaving no stone unturned to ensure a smooth and fair testing process.


MDCAT 2023:
MDCAT-23, a key acronym dominating conversations in educational circles, stands for the Medical & Dental College Admission Test 2023. This examination, held across 11 test centers in 7 cities in Khyber Pakhtunkhwa, is a pivotal event for those seeking admission to medical and dental colleges. Aspiring candidates must pay attention to the critical details and instructions provided by the university to ensure a hassle-free experience.


Important Instructions for Candidates
The journey toward MDCAT 2023 begins with obtaining the Admit Card, a document that holds the key to the examination center. The Khyber Medical University has streamlined this process, allowing candidates to easily access their Roll Number Slip through the official KMU website. Its essential for candidates to follow the guidelines provided, ensuring accuracy in the information entered during the search.
On the day of the exam, candidates are advised to be well-prepared. KMU takes security seriously and has outlined strict rules. From the prohibition of electronic devices to a thorough physical search before entry, the university is committed to maintaining the integrity of the examination process.


Crucial Timing and Examination Protocol
Candidates must adhere to the designated schedule, arriving at their respective test centers by 7:00 AM sharp. The exam gates close at 09:30 AM, with the test commencing at 10:00 AM and concluding at 01:30 PM. KMU emphasizes punctuality, and any deviation from the schedule could lead to disqualification.


The Road Ahead
As candidates embark on this challenging yet promising journey, they must remember that MDCAT-23 is not just an examination; its a gateway to a future in the medical and dental fields. With the support of Khyber Medical University, these aspiring healthcare professionals are taking a significant step toward realizing their dreams.
In the quest for knowledge and healing, the MDCAT-23 exam stands as a critical checkpoint, and the Khyber Medical University is dedicated to ensuring a fair and secure environment for all candidates. Good luck to all the future doctors and dentists preparing to make a difference in the world of healthcare.
Khyber Medical University KMU MDCAT 2023 Test Instruction
Khyber Medical University KMU
Add a Comment
Comments will be shown after admin approval.
Spam comments will not be approved at all.