ACEINST DPT Admission Open 2023-24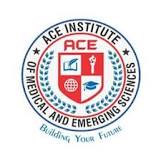 ACE Institute of Medical and Emerging Sciences: Shaping Future Doctors
Embark on a journey towards a promising medical career with ACE Institute of Medical and Emerging Sciences, where aspirations meet opportunities. The institute is now welcoming applications for admissions, offering both Merit and Need-based scholarships for eligible candidates.
Diverse Programs: ACE Institute provides a diverse range of programs catering to various medical fields. Whether you aspire to become a Doctor, specialize in Medical Laboratory Technology MLT, pursue Health and Nutrition Development HND, or delve into the intricacies of Computer Science with a focus on medical applications BSCS, ACE has a program tailored for your ambitions. The Doctor of Physical Therapy DPT program is another flagship offering, preparing students for a career in rehabilitative healthcare.
Admission Opportunities: The institutes commitment to accessibility and inclusivity is evident through both Merit and Need-based admissions. This ensures that deserving candidates, irrespective of financial constraints, have the chance to pursue their dreams of becoming healthcare professionals.
Sculpting Future Doctors: ACE Institute stands out in its dedication to nurturing the next generation of doctors. The faculty, comprised of experienced professionals, ensures a high standard of education. The institutes mission is to empower students with the knowledge and skills needed to excel in the dynamic field of medical and emerging sciences.
How to Apply: The application process is straightforward. Aspiring scholars can apply for admission by providing the necessary documents and meeting the program-specific eligibility criteria. The institute encourages potential candidates to explore their options and discover the program that aligns with their career aspirations.
Scholarship Opportunities: In addition to Merit-based admissions, ACE Institute offers Need-based scholarships to support students in their academic journey. This reflects the institutes commitment to making quality education accessible to all deserving individuals.
Join ACE Institute: For those aspiring to join the ranks of healthcare professionals, ACE Institute of Medical and Emerging Sciences provides the ideal platform. Shape your future, contribute to the evolving landscape of healthcare, and become part of a community dedicated to excellence in medical education. Apply now and turn your aspirations into reality at ACE Institute.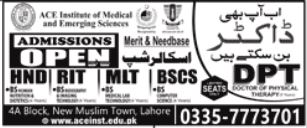 Add a Comment
Comments will be shown after admin approval.
Spam comments will not be approved at all.